Slide 1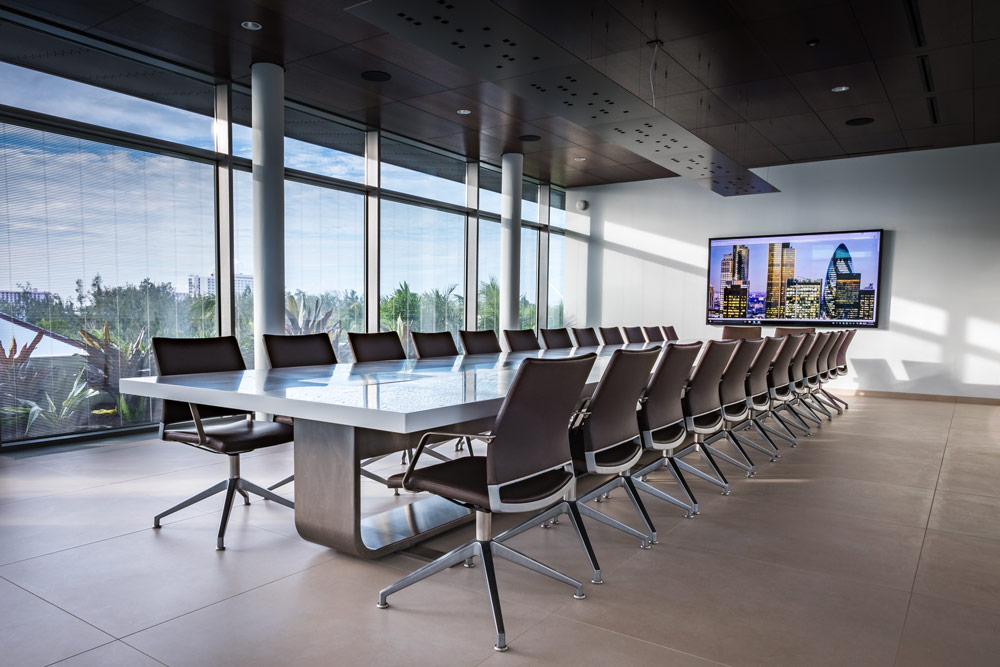 Slide 1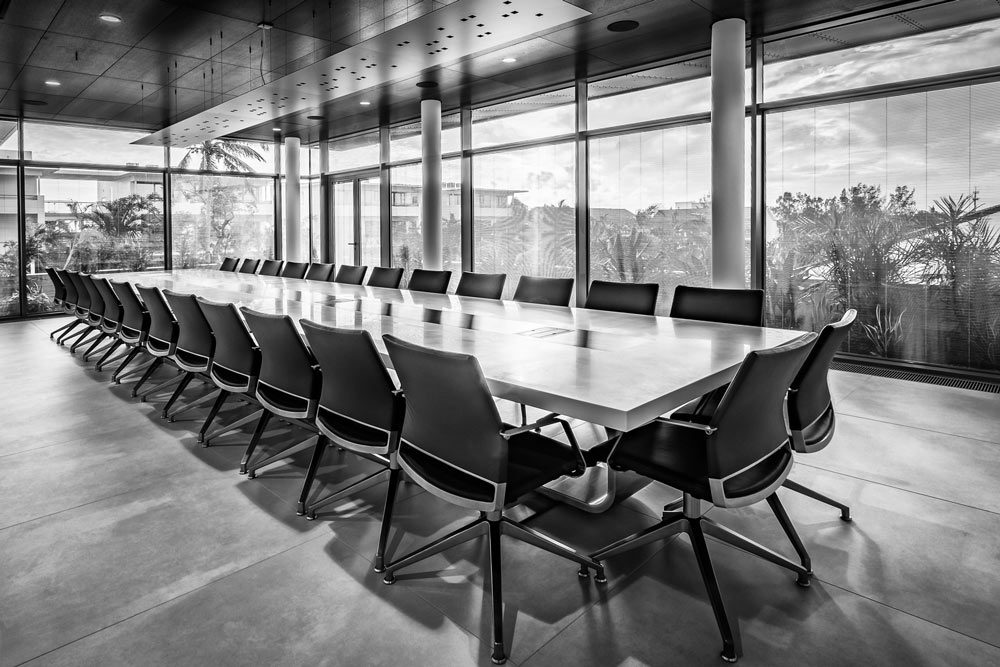 Status:      
Typology:
Location:
NFA:
NFA:
Year:  
Completed
Interior Design
PI/Nassau/The Bahamas
75 m2
807 sqft
2016
CONFERENCE ROOM NASSAU
Our Scope
– Interior Design and Service
– Landscape Design and Service
– MEP Building Design and Services
– A/V Design and Service
– Project Management
– Site Management
– Procurement (USA / Europe / The Bahamas) and Provision of craftsmen (USA / Europe / The Bahamas)
Interior Design
The conference room is the center of an office complex and is a fully equipped workplace for 26 participants. The conference table is made of Corian, the media track in the center of the table is equipped with 4 AV Hubs (Fliptops), providing microphones and HDMI connections for Audio/Video conferences as well as CAT 7 connections for fast access to the network. The exterior walls are completely glazed, therefore a sophisticated shading system was required. The automated control system creates the adequate light ambience, and the integrated blinds system operates in accordance with the position of the sun, but also allows a manual override.
Interior Design:
Client:
Project Management:
Site Management:
Audio/Video and lighting control:
Media Design:
HVAC/Lighting Design:
Conference Table/Chairs:
A/V and lighting control system:
Shades Automatization:
Photos:
Completion:
asp-architects, team Vienna
Privat
asp-architects, team Nassau
Salvadore DeSimone, Tracy Brisby
Electronic Environments Inc, New York
Xmedia Handels GMBH, Vienna
TB Ökoenergie Greif GesmbH, Wels
Thonet GmbH, Germany
Crestron, USA
KNX, Europe
John Oliver photography, Vienna
April 2016
Interior Design:
Client:
Project Management:
Site Management:
Audio/Video and lighting control:
Media Design:
HVAC/Lighting Design:
Conference Table/Chairs:
A/V and lighting control system:
Shades Automatization:
Photos:
Completion:
asp-architects, team Vienna
Privat
asp-architects, team Nassau
Salvadore DeSimone, Tracy Brisby
Electronic Environments Inc, New York
Xmedia Handels GMBH, Vienna
TB Ökoenergie Greif GesmbH, Wels
Thonet GmbH, Germany
Crestron, USA
KNX, Europe
John Oliver photography, Vienna
April 2016